Growing Up with a Mentally Ill Mother - "Daughters of Madness", a New Book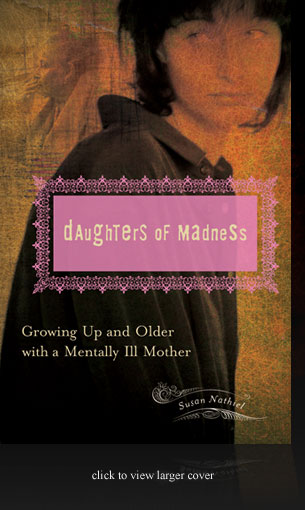 Daughters of Madness is a new book on daughter's experiences of growing up with mentally ill mothers. The book is unique in that it includes an introduction on how children are affected by mentally ill parents and also covers the related research. The rest of the book is full of interviews, and personal stories of women who have experienced a mother suffering from mental illness. Although the book is about daughters and their mothers, anyone with a mentally ill parent or family member may find it beneficial.
Susan Nathiel, the author, is an accomplished psychotherapist who is also a "daughter of madness" - and wrote this book with a wide range of audiences in mind; from professionals, to students, adults, and teens. The book is divided into sections based on age relevance of the stories, and includes perspectives from many different mental illnesses; including schizophrenia and bipolar disorder.
We are fortunate to have had an opportunity to ask her some questions that may be helpful and hopeful to the reader. In the interview you will find information on how to deal with with mental illness in the family, and plenty of resource links.
Click Here for an extensive Q&A with Susan and more information on the book.
From Susan Nathiel, author of Daughters of Madness: Growing Up and Older with a Mentally Ill Mother, Praeger/Greenwood Press, 2007.
To Purchase the Book: go to Amazon.com at the following link:
Daughters of Madness: Growing Up and Older with a Mentally Ill Mother

Price Range $40-$50
Posted by Michelle Roberts at August 26, 2007 11:31 AM
More Information on
Bipolar Disorder Books, Movies & Theater